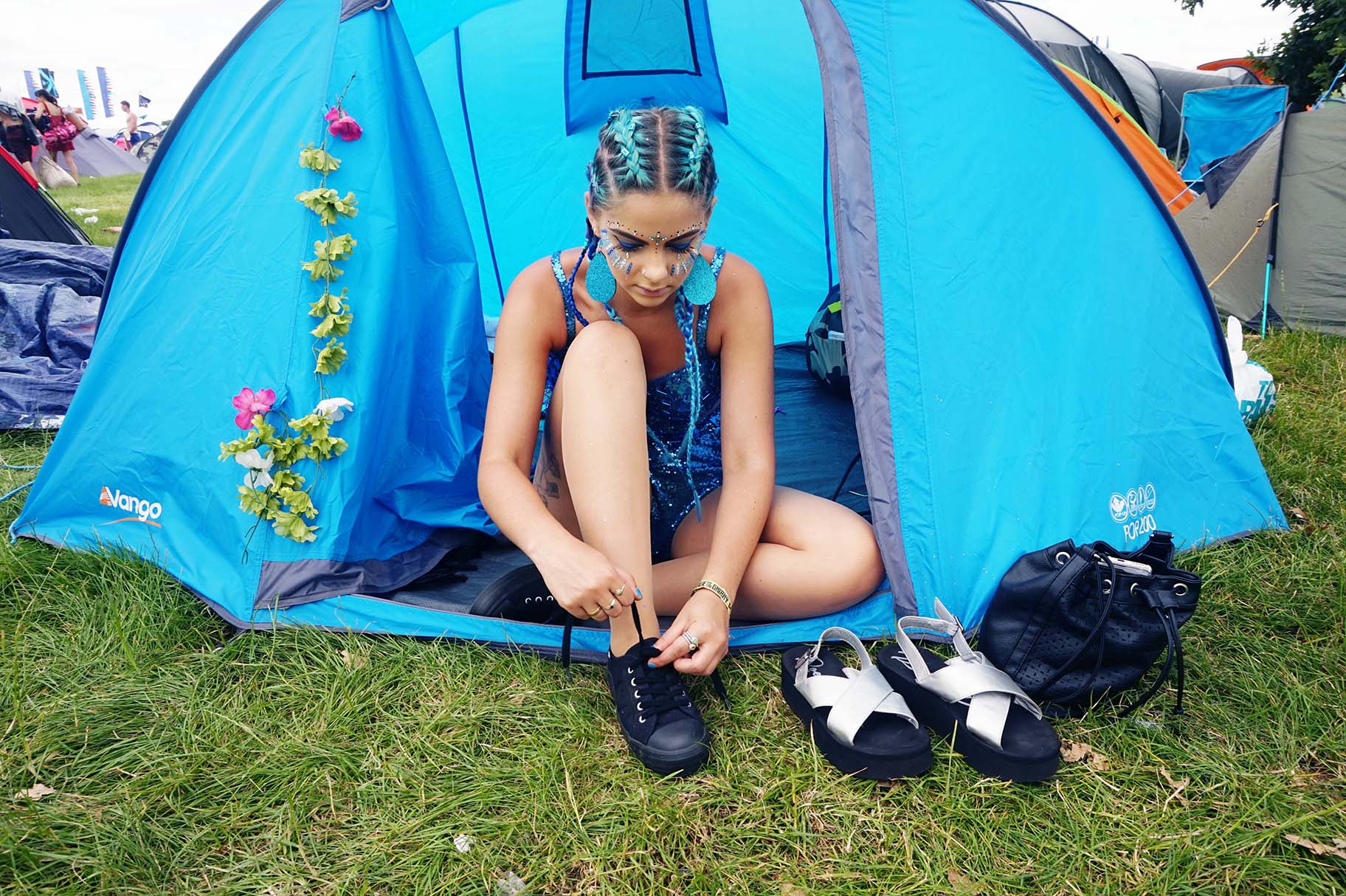 With the biggest festival, Coachella, just around the corner, it seems only right to create a blog post on what to pack. I can't express how excited I am that I'm actually going to Coachella! It's been my dream for years and Claire's kindly asked me to join them – eeek! When it comes to a festival, there's a lot of things you need to remember. Now there's 2 ways you can do a festival; weekend camping or just going for the day. Your packing list will be completely different for both; a hell of a lot longer if you're camping. So I've decided to put 2 lists together, aren't I just so helpful!
CAMPING FESTIVAL PACKING LIST
I'm going to start with the camping list, seeing as this one is the most important, as you can get pretty stuck if you've forgotten something. Although I have noticed mini shops at festivals now where you can buy essentials from such as toothpaste, loo roll and even more. So here it goes…
TENT – I mean this one's obvious I know, but you need a good tent! Something that is waterproof as you know what the english weather is like. I always like to take along 2 tents with me to a festival; one of those quick pop up ones to store all of my clothing and makeup in and the other to sleep in. It's just so much nicer to have a little more space and if you're also only going with a few friends it means you can  make a little set up away from everyone else.
HAMMER – Sometimes the ground can be a bit hard when you're trying to secure your tent, so bring a mini hammer or mallet is really helpful!
TENT ACCESSORY – With all the tents in one place, it can be a little tricky trying to find your tent when you've had a little too much to drink. Pop a flag, some cute flowers or some tinsel around the top of your tent so you can pick it out from the crowd.
CAMPING LIGHT – There's hardly any lights when you're camping at a festival, plus it's pitch black inside your tent, so bringing a camping light or torch is very handy. I had a lamp last year at Secret Garden Party Festival which you could also use to charge your phone too!
SLEEPING BAG – Another obvious one, but honestly, get a sleeping bag over a duvet! It gets so chilly at night in the UK.
SLEEPING MAT – You might think you can bare the hard ground, but a sleeping mat is so cheap and honestly so comfy! That little bit of comfort goes a long way.
PILLOW – Some sleeping bags have pillows built in, if not, you might fancy bringing one.
FOLDING CHAIRS – A little tip if you're trying not to carry too much, get a kids camping chair. It might be a tight squeeze, but they're a lot lighter and smaller.
BLANKET – A blanket is just really handy to have at a festival. One if you get cold, two if you want to lie on the floor instead of sitting in your camping chair.
EAR PLUGS – I wish I had taken some to Secret Garden Party last year, however I ended up making some out of toilet paper which worked great! If you plan on sleeping at a festival, you NEED to remember some ear plugs.
PORTABLE PHONE CHARGER – Most festivals have charging points now, but they can be a bit pricey. Best thing to do is invest in a portable charger before you go and keep your phone on low battery mode.
EXTRA BATTERIES – You might need some for your torch!
WATER – It's so important to have some water on you. Most festivals have water taps dotted around, so when you've run out you have access to some more.
SNACKS – Food can be expensive at a festival so it's a good idea to bring snacks with you. You might even be quite the chef, and if so bring along a mini gas cooker!
WET WIPES – You will find showers now at festivals, but you do have to pay! Most people just bring along some wet wipes to clean themselves with.
HAND SANITISER – Some portable loos have hand sanitiser, some don't!
LOO ROLL – If there is one thing at the top of your list it's this! By the end of day one at a festival, you probably won't find a portable toilet that has any. Keep loo roll on you at ALL TIMES!
SUNSCREEN – You never know, we might randomly get Spain's hot weather one weekend. It's always good to bring sunscreen as sometimes it's hard to find shade at a festival.
MEDICATION – Ibuprofen and allergy tablets are always a good thing to bring along, plus anything else you might need to take.
DRY SHAMPOO – This one's for the girls!
FIRST AID – Blisters are the worst if you get them at a festival, so make sure to remember some plasters and even burn cream in case of sunburn.
SUITCASE/CAMPING RUCKSACK – You will need something to carry everything, most people bring camping rucksacks or sometimes I take along a suitcase with wheels as then all you gotta do is just pull it along.
DEODORANT – Everyone's going to smell at a festival, so remember your D.O. for B.O.!
CLOTHING – You know me, I love anything that sparkles! I always make sure I pack a different outfit for each day.
WARM CLOTHING – In the UK it can get rather chilly at night, so it's always good to bring some warm clothing like a hoodie, coat or knit jumper.
PONCHO – You know it's going to rain, so it's a good idea to bring a waterproof coat or poncho.
SWIMSUIT – Just in case the weather is amazing and you fancy sunbathing. Or hopping in one of the hot tubs at the festival.
HAT/SUNGLASSES – To protect your face/eyes from the sun. I know if I don't keep my face out the sunshine I can get headaches.
WELLY BOOTS – Just to be on the safe side in case it rains.
MONEY/ID – Festivals are getting stricter now and even have bouncers on the bars, so make sure you bring ID if you're of age.
FESTIVAL TICKET – I mean come on, you can't forget that!
BIN BAGS – To tidy up after yourselves. These also come in handy if you can't get your sleeping bag back into it's holdall.
MAKEUP/GLITTER/FACE GEMS – You know I wouldn't be able to go to a festival without all of these.
ALCOHOL – It will save you a lot of money if you bring your own booze. Some festivals even allow you to bring it inside where the music is.
BOTTLE OPENER – Otherwise you'll have to find that guy who's party trick is to crack open a bottle with their teeth.
PAPER CUPS – To drink from of course!
RAZOR – In case you're like me and your hair grows overnight – I know so annoying!
MIRROR – To get yourself festival ready.
CAMERAS – To capture your fave festival moments.
PORTABLE MUSIC PLAYER – So you can listen to tunes whilst you get ready/drink.
Now that's a hefty list! I think I got all of the important ones down. It's a lot to get and to remember, but it'll put you at ease knowing you're well prepared. Now moving onto if you're just heading to a festival for the day. This list will be similar to a few above.
DAY FESTIVAL PACKING LIST
FESTIVAL TICKET
MONEY/ID
PONCHO
WARM CLOTHING
HAND SANITISER
LOO ROLL
MAKEUP
CAMERAS
HAT/SUNGLASSES
SUNSCREEN
MEDICATION
PORTABLE PHONE CHARGER
HANDBAG/RUCKSACK – To carry all of the above in.
SUITABLE FOOTWEAR – Check the weather before you go!
You don't really need much for the day. It's just good to bring a small bag and try and fit in as much as possible because you never know what can happen. And you're pretty stuffed when you've left your house as you will only have whatever is in your bag.
If there's anything I've missed off or that you ALWAYS take to a festival, I'd love to hear!
Peace
x
Bloglovin | Twitter | Facebook | Instagram | Youtube | Pinterest